We take pride in masonry excellence
A large modern banker shop is home to our award winning Portland stone masonry team. With the ability to carve an individual one off design, or to meet an architect's detailed specification.
Our varied stone range ensures a wide choice for our clients, which are then handcrafted by our masons into a quality finished product.
We complete semi-machined pieces using masonry for monumental and ornamental commissions. Working at commercial speeds and to high detail, accurate stone mouldings are made from zinc templates by our drawing office.
Throughout the masonry process our team visually inspect each face. Our quality control methods ensure only the most suitable stone leaves our factory.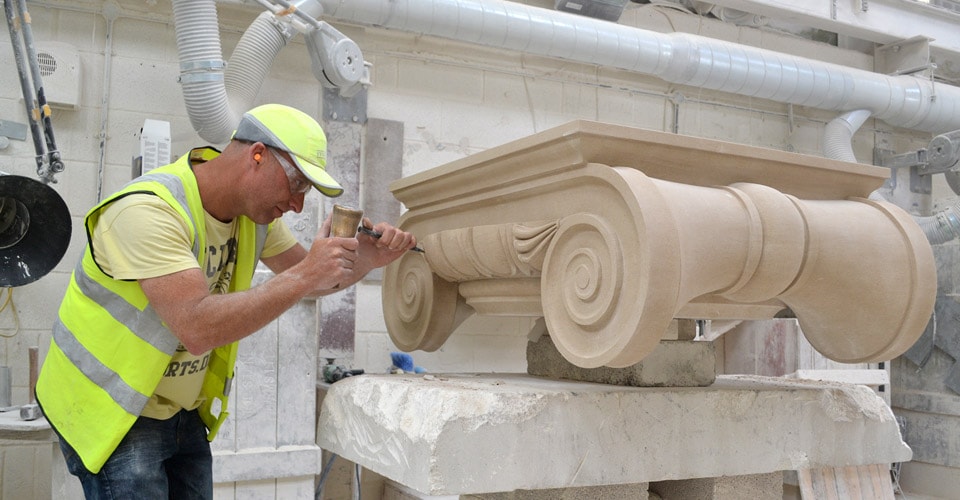 Supporting apprenticeships

At our factory, apprentices are mentored by senior masons. They begin by working a rough piece of stone into a cube, and progress to intricate detailing.

They then focus on reaching commercial speeds using modern cutting and air tools. By the end of their training they can use numerous masonry methods, including restoration.

Industry links
It takes many years to become a master stonemason. We pride ourselves in recruiting young talent and investing in their futures.
Many of our apprentices now work internationally within the stone industry, using our training to further their careers.
Experience
The expertise of our masonry staff can be seen in the work they produce.
With attention to detail and a wealth of experience over the years from continual training or new commissions, clients are provided with the very best handcrafted stone possible.